NEMA17 34mm Replicator Stepper Motor
Order No.: 17HS1011-20B.PDF
Round Shaft for Ultimaker Extruder. Reprap, Makerbot and more 3D Printers
200 steps per revolution (1.8 deg/step)
2 Phase 4 wires
Rated Voltage 4.83V
Rated Current 0.84A
Phase Resistance: 5.75 ± 10% (20º C)
Phase inductance: 9.3 ± 20% (1kHz 1 V rms)
Holding torque: 0.28 Min.
Shaft diameter: 5mm 0.188" (3/16")
Shaft length: 22mm
Motor depth: 34mm
The NEMA17 34mm Stepper Motor is from stock. We offer customized shaft and lead wires for different 3d printers.
Option: 5mm Flat Shaft, 5mm Round Shaft.
400mm or 700mm long lead wires.
17HS1070-24B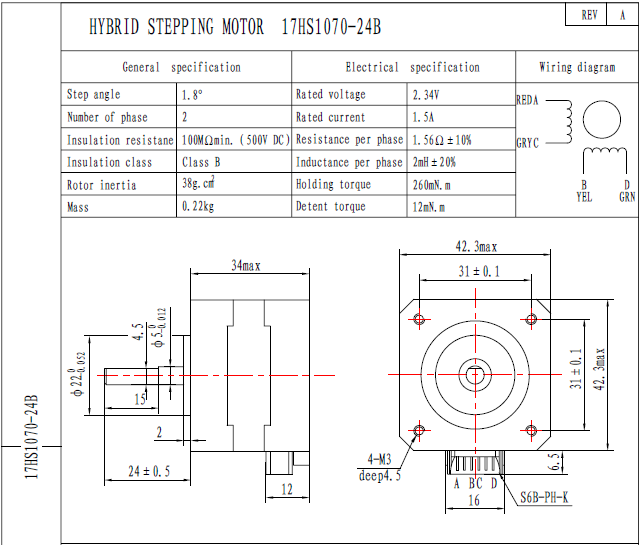 Q: What's the difference between 17HS1011 and 17HS1070?
A: The rated current.
Q: What's the results?
A: Higher rated current means lower phase reductance, the motor will respond much more quickly and higher torque output in low speed. But in the same time the heat dissipation is higher.