Desktop 5-axis CNC Mill
Price Match and rich backup components are available upon request. Post processor PM Powermill, UG, MC MasterCAM, HSMWorks HSM, Fusion 360, JD available.
This is a Collaborative Developed 5-axis CNC Mill, there is a QQ group of users of more than 2,000 in China, a new WeChat Group of users worldwide starts from the end of 2020, and welcome your questions. It adopts a USB 5-axis CNC controller, User Manual for the Desktop 5-axis CNC Mill

The latest Fusion 360 Post Processor File for reference
https://drive.google.com/file/d/1wlhG8AyuBtpyUVM1XwtVf3IxR7KXVRb3/view?usp=sharing
XYZ, AB 5-axis travel distances and angles?

Standard offer of Desket-V4
One complete horizontal 5-axis CNC milling machine, BLDC Servo Motor, C5 Ground ball screw 1204 and 1604, HIWIN dual linear rails, Harmonic Reducer the 5-axis (Metal Enclosure is Not included, can purchase separately)
Control box/Power supply
Power cord
USB cable
1 set of hexagon wrench
Self centering vise 8-55mm
A set of ER11 wrench
Two ER11 collets
4 test tools 8 pieces (2, 4mm end mill, R1 ball cutter, 0.2 point cutter)
Gauge block
Electronic handwheel
4 pieces of test substitute wood
Spindle motor cooling system (pump)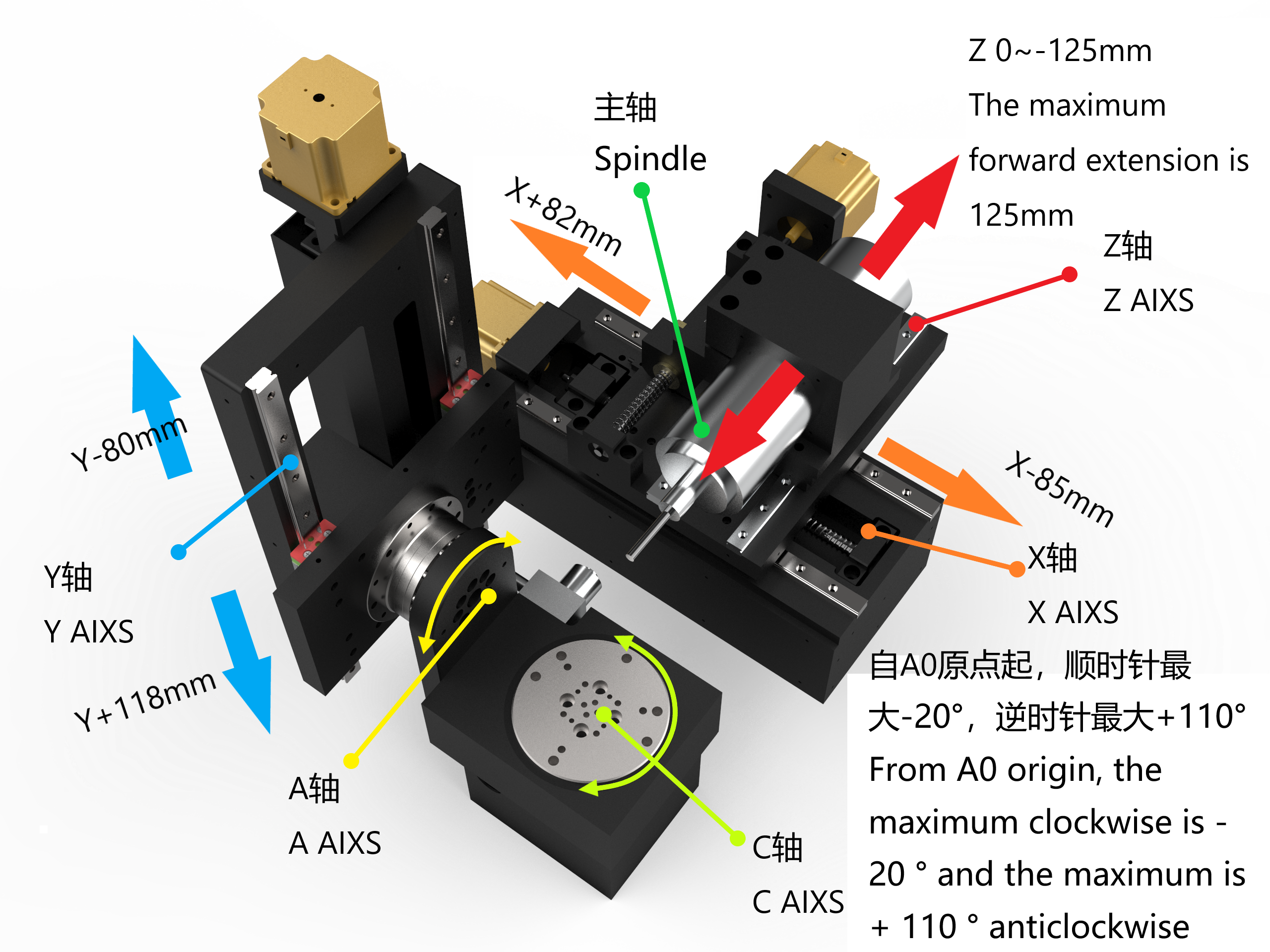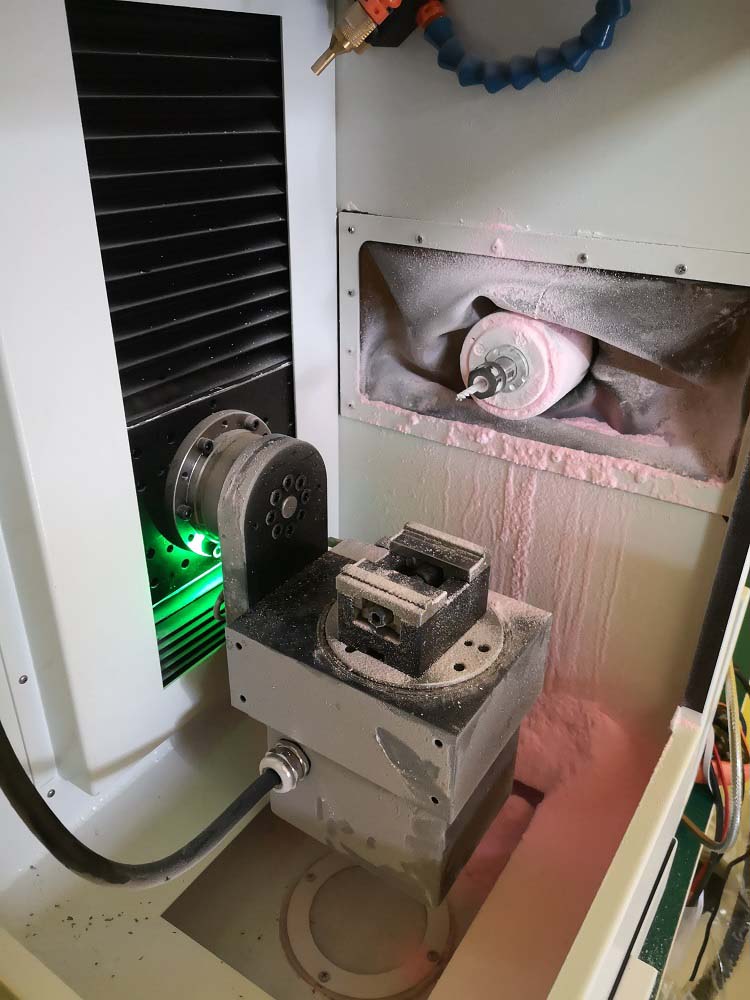 Dimensions of the 5-axis CNC mill (Width/Depth/Height)?
With the latest enclosure 700*500*700mm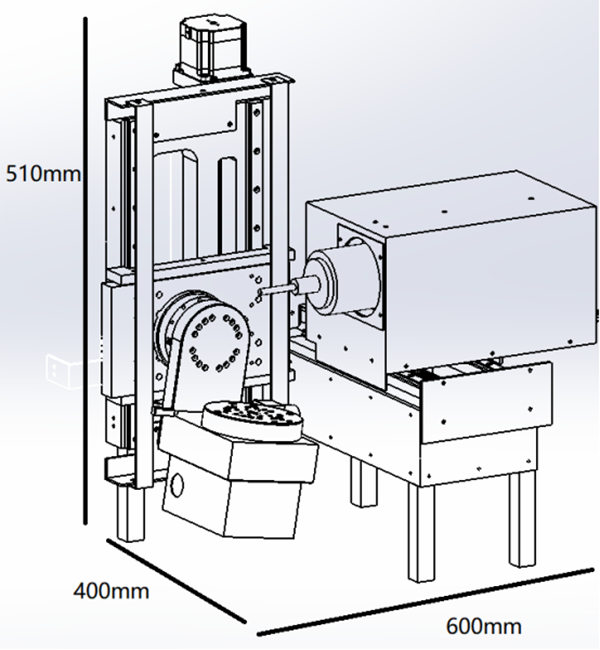 Without the metal enclosure, it's 600*400*510mm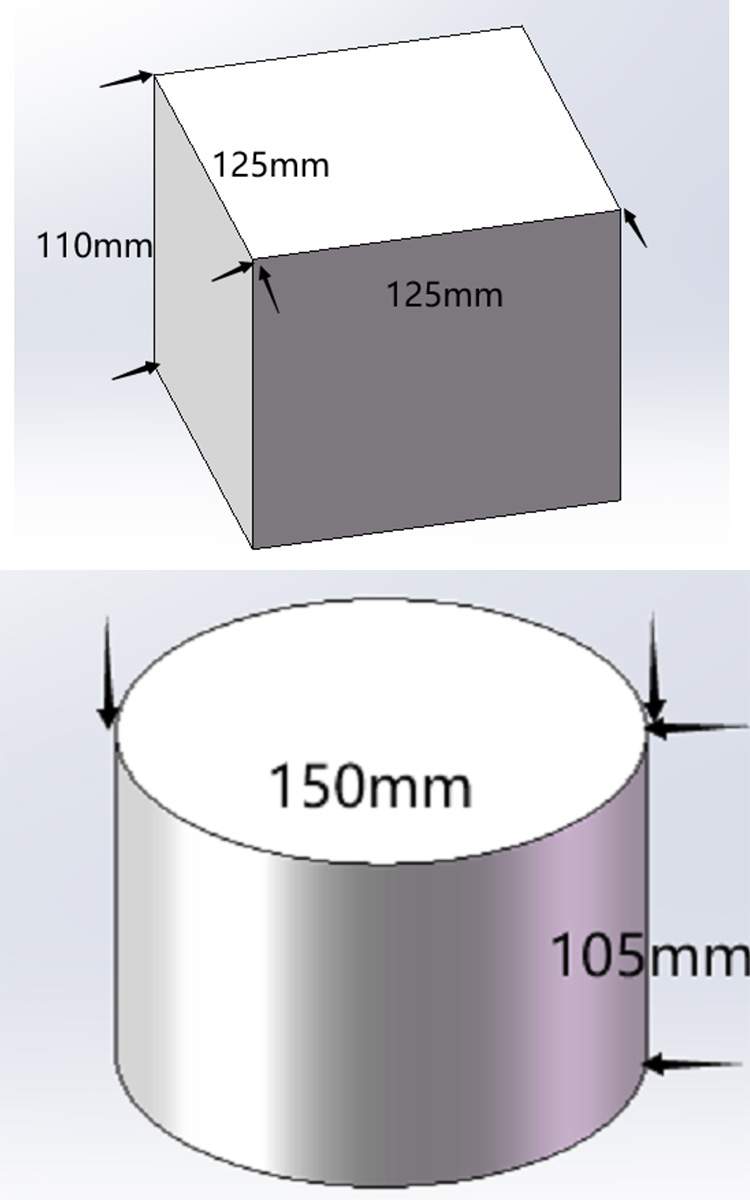 Standard configuration:
Overall size L700*W400*H510mm
Workbench size 140*130mm
Total machine weight 60Kgs
Workbench maximum load 10Kgs
X, Y, Z three-axis effective stroke X160*Y200*Z125
A, C rotary axis are both Harmonic Drive effective stroke A-20--+110 degrees, a total of 130 degrees, C-axis 360 degrees unlimited
5-axis effective processing range X150*Y150*Z125
A-axis rotary axis parameter 1:50 grinding worm reducer, cross roller rotary bearing
C axis rotary axis parameter 1:50 grinding worm reducer, cross roller rotary bearing
Three-axis ball screw X, Z-axis 1204 C7 Y-axis 1605 C7
Linear guide X-axis adopts silver MGN12 linear guide, Y-axis adopts silver MGN15 linear guide Z-axis adopts HGH20
Rack 6061T6 aviation aluminum + force parts 45 steel quenching and tempering, the whole machining center drilling, fine milling, tapping
Processing materials Plastic, wood, aluminum. Copper, gold, silver, wax, etc.
Processing speed 2500mm / min (mm / min) (depending on the material, processing speed is different)
Spindle model 65mm diameter 800W electric spindle 24000 rpm
Dustproof organ dustproof + oil seal dustproof (rotary table waterproof treatment)
Tool diameter ER11 0-7mm
Fixture Steel fixture, reserved for er50 collet holder, 63 80 chuck
5-axis Desket CNC Milling Machine
Electric control part model, parameters



NEMA23 stepping motors with high torque can work better than ordinary brands for a long time. Closed-loop Stepper Motor or DC Servo Motor is available and the price is 350USD higher.
Zero return switch 5-axis high precision photoelectric sensor switch
Control card USB motion control card supports five-axis linkage RTCP function.
Drive 32 subdivision 4.0A integrated drive board.
Power supply 220V input 36V20A output.
Electronic tool setting Fixed high precision electronic tool setting with repeatability of ±1μm

The difference between V3 and V2:
V3 is an upgraded version based on V2. In order to process copper and aluminum with higher performance, the force parts of the frame are replaced with 45 steel. The bearing scheme of the rotating shaft is also replaced with a cross roller bearing that can be loaded with higher rotation and higher precision. The machine body also reserves a lot of table alignment holes, which is convenient to adjust the precision of the machine to avoid assembly errors. The Y-axis guide screw is also replaced with the larger lead screw guide due to the load. The spindle is also replaced by an unpowered 400W to an 800W electric spindle. In comparison, the electric spindle has less noise and heat generation, and the power and speed are larger. Therefore, the V3 version of the aluminum processing parameters should be able to recommend a 6mm milling cutter under the knife 0.2~0.3F1500, the current V2 recommended parameter is a 3mm milling cutter under the knife 0.2F1000. In contrast, copper and aluminum can be processed more efficiently because of the overall strength and performance of the machine. The other five-axis stroke is also raised from the 120-diameter*90 height of the V2 to the 150-mm diameter and 125-mm high of the V3. The rotating shaft is also water-repellent. The waterproof rotary oil seal can be used to process the cutting fluid, which is more suitable for processing metal or jade.
Metal enclosure V3-Enclosure
V3 sheet metal shell, color black, 2.5mm thick aluminum plate, 750*500*600mm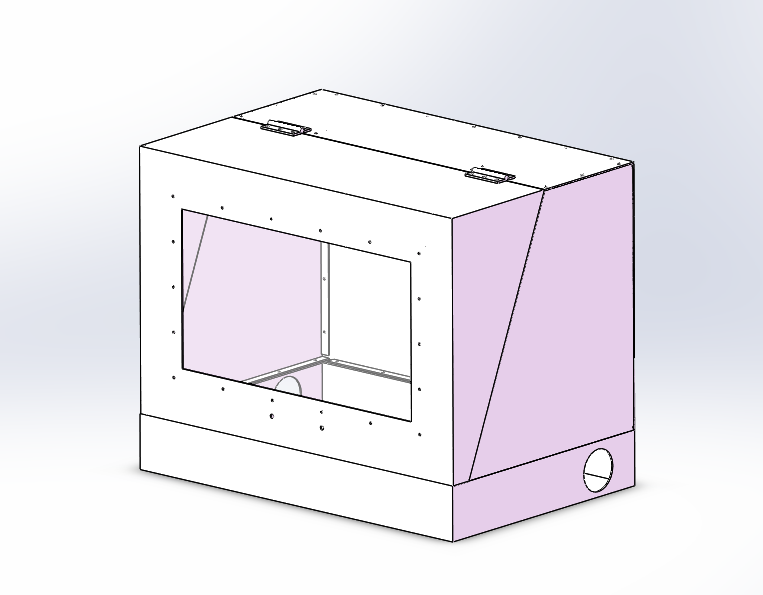 The latest version V4 as the following photo and video is going to be available on sale in late June 2020, Presale 10 units.
The rotary is changed from worm gear to harmonic reducer and Z axis from single linear rail to dual linear rails.
BLDC Servo Motor and C5 Ball Screws, HIWIN Linear Rails are the standard offer.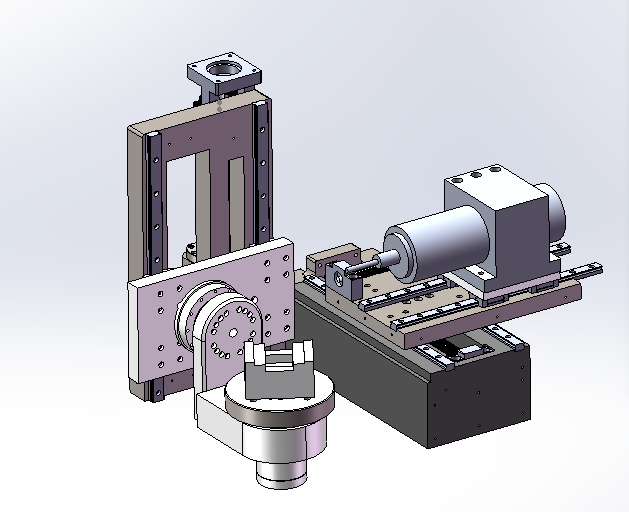 The V4 Enclosure is Not a full cover for the 5-axis CNC mill but is for the working area. You can find below
The metal enclosure is Not very suitable to ship separately because the Volume Weight is over 50Kgs, the shipping cost is high.
You could order the enclosure with the Desket-V4 5-axis CNC milling machine, thanks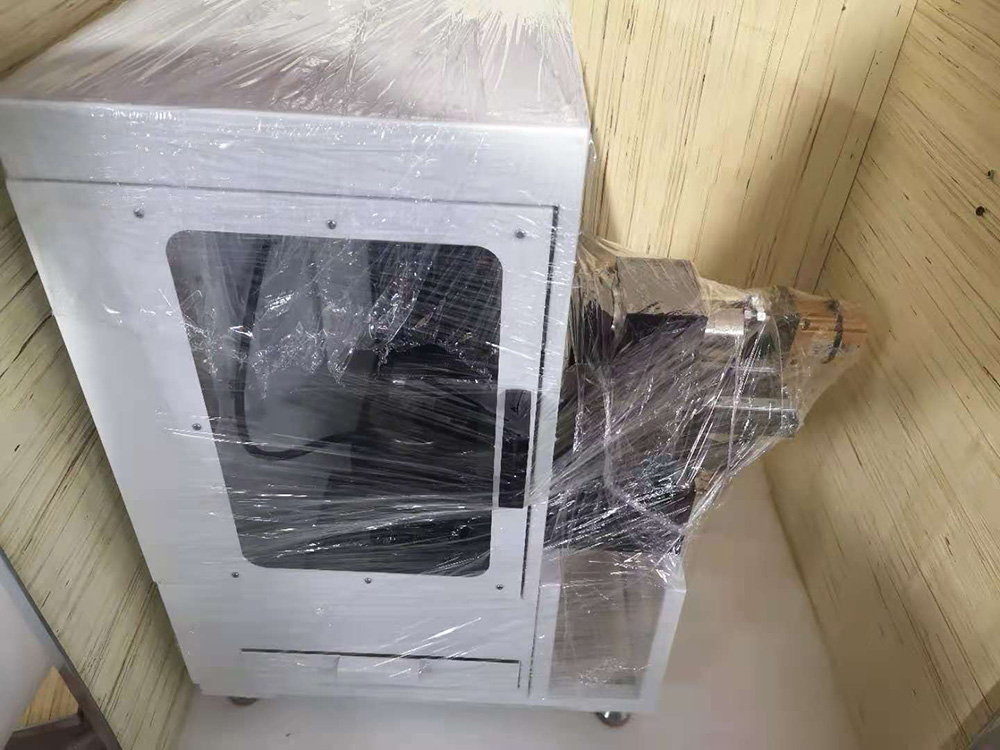 Is this 5-axis CNC mill suitable for Aluminum machining?
Optional addons 80 Chunk, ER40 or ER50


Self-centering Vise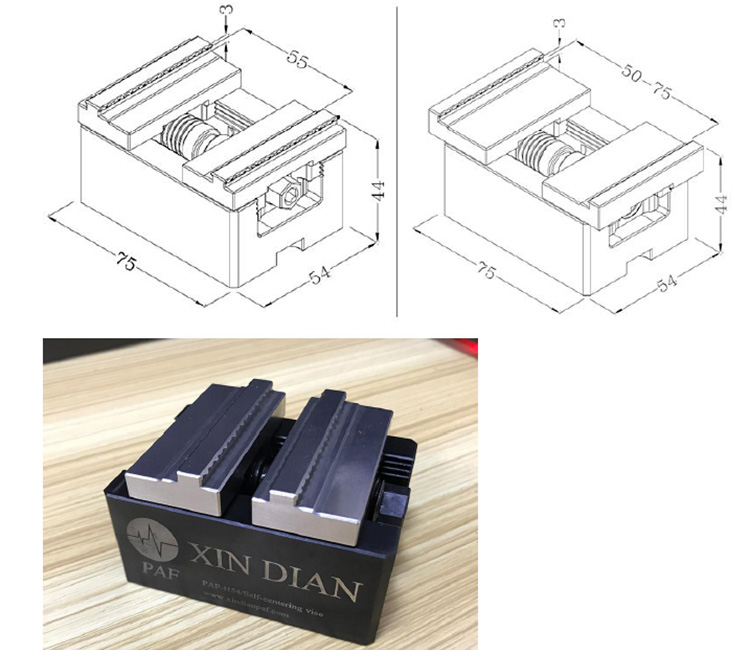 Enclosure for the 5-axis Desktop CNC Milling Machine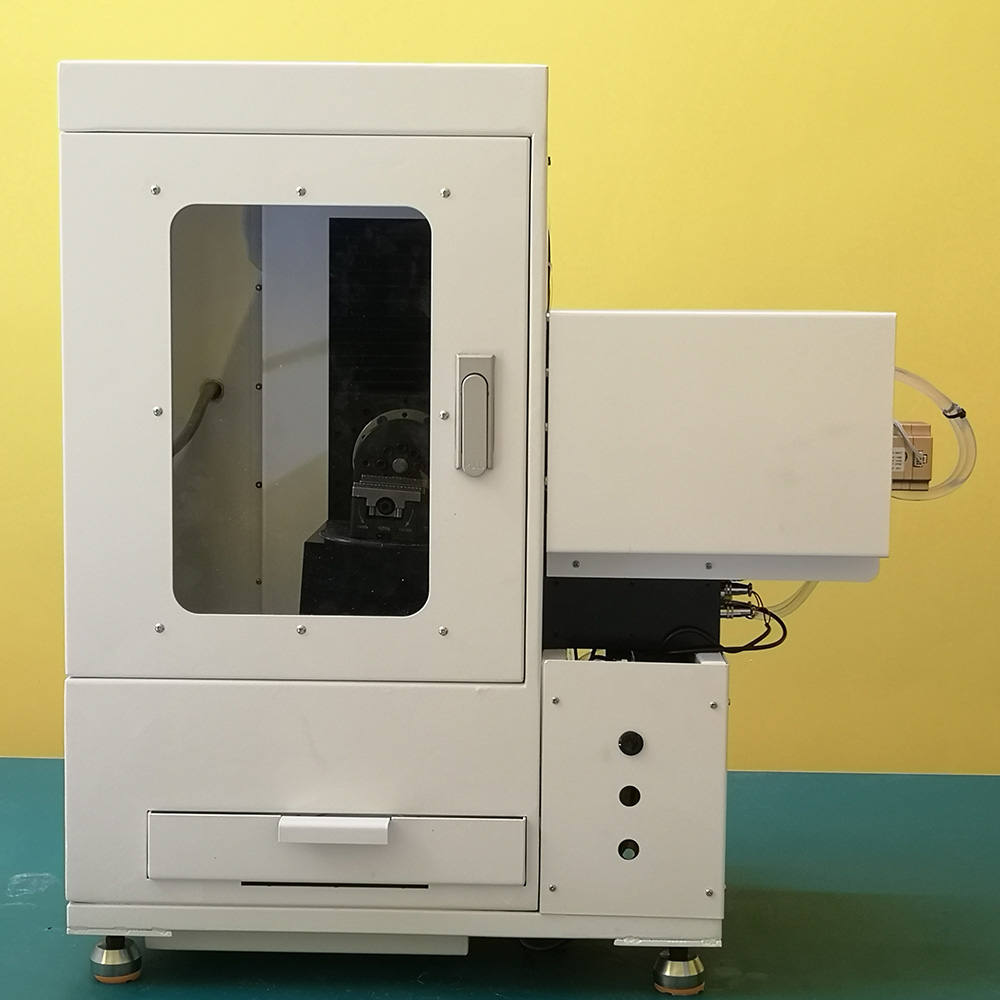 If the 5-axis CNC milling machine is true 5 simultaneous axis or a 3 + 2 axis machine.
RTCP the true 5-axis CNC milling function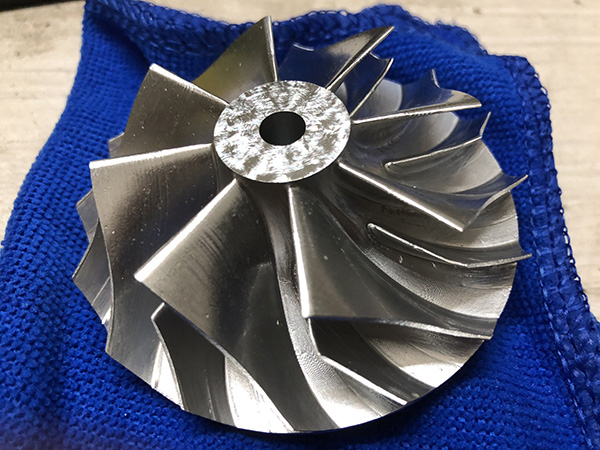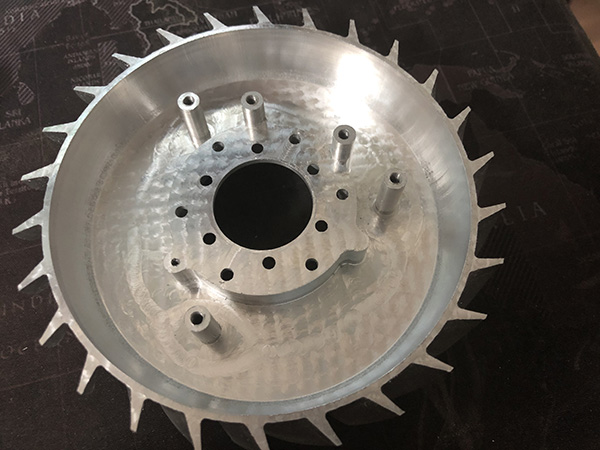 Q1. Are servo motors standard, or is that an option?
A1. Servo motors of the V4 are standard offer and ground ball screw, harmonic drive r5-axis.
Q2. Does only the "C" rotary axis use a harmonic drive, does the "A" axis also use a harmonic drive?
A2. A and C rotary axis are both harmonic drives.
Q3. Does the "Y" axis require a counter-weight? (I noticed a cable in one of the photos on the webpage).
A3. No need for a counterweight.
Q4. Are all the motors and electronics well sealed against cutting/cooling fluid (water-soluble)?
A4. With enclosure, yes it's well sealed.
Q5. Is the enclosure sealed against cutting/cooling fluid and is there a reservoir (sump) at the bottom of the enclosure that is suitable for coolant recirculation?
A5. Yes, there is a reservoir at the bottom for the coolant recirculation.
Q6. Is the spindle water cooled? If so, is the pump and cooling system reliable?
A6. Yes, the spindle is water-cooled with cold exhaust and cooling fan, pump and cooling system provided is reliable.
Q7. Is there any disadvantage (other than the additional cost) to get the high-speed spindle?
A7. Speed mainly depends on the needs of processing materials. With high speed, the finish and cutting load of each edge will be smaller, but the tool will wear out faster.
Q8. Is there any kind of semi-automated tool setting mechanism? i.e., is there a touch-off sensor?
A8. There is an automatic electronic tool setting.
Q9. Do you provide a post-processor for Fusion 360 that works well?
A9. Yes, Fusion 360 post-processor is provided.
Q10. Do you provide any post-sales support for setup, configuration, trouble-shooting?
A10. Yes. If you have WeChat, we have a group of more than 10 already from worldwide and our engineer in to take your questions.
V4-Pad12 Industrial PC
We provide the 12 inches industrial PC an option as the upper host instead of a computer for an extra cost of 500USD.