Bellows Metering Pump
DZ/DS/DZR Bellows metering pumps operate on a positive displacement principle. These metering dosing pumps are designed to displace both corrosive and non-corrosive fluids. Accurate to ± 0.5% from stroke to stroke, when pump is set 50% to 100% of full stroke. Available with either EPDM or FKM elastomers, the self-priming and corrosion resistant features help provide the reliable, continuous duty throughout a variety of chemical dosing applications.
These Bellows Metering Pumps have a compact design saves space, allowing manufacturers to reduce the overall size, weight and cost of their finished products. Small dimensions also permit them to fit into extremely tight areas.
A high-efficiency motor drives an adjustable cam which operated the bellows. This simple mechanism provides virtually silent, accurate operation with no maintenance required.

Bellows Metering Pump Features
No leakage: There is no mechanical sealing position, no leakage exists.
Precision of outlet: +/- 1.5% high precision can be achieved at the condition of clean water.
Self-suction: Suction range is 1 meter at the condition of normal atmosphere, temperature and clean water.
Allowed to dry rotation: For working chamber bag consists of bellows, dry rotation is allowed.
Long service life: The chamber is made from polypropylene that is anti-winding and special prescription; it can withstand countless reciprocating motion.
Anti-corrosion: Pump body is made from polypropylene; valve adopts special EPDM, FPM, resisting various acid, alkali and etc. corrosive liquids.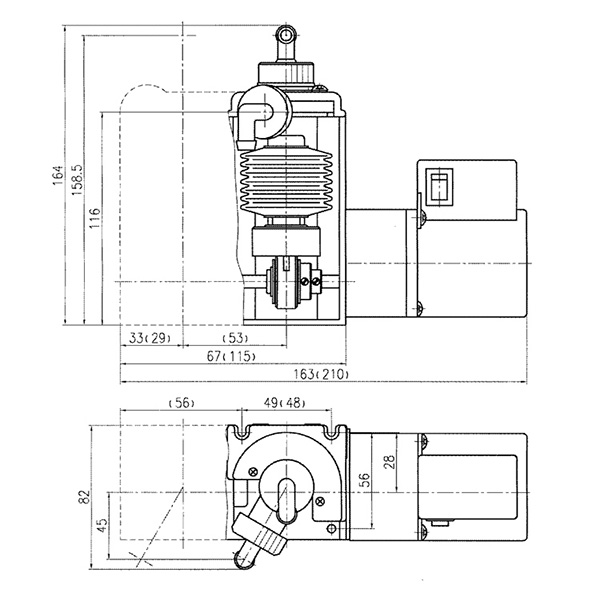 Application
1)Automatic development of colour film microfilm cinefilm and etc;
2)It is uesd in beverage vending machine;
3)Sticking liquid and mediation;
4)Quantitative replenishment of food additive;
5)The etching and cleaning of electronic basic plate printing Circuit;
6)The neutralization of acid and alkali for water treatment the utilization of condensating separation agent;
7)Quantitative supply of electroplate liquid;
8)Widely used in quantitative priming of additive bleaching liquid and medicaments.