CHMT48VA or CHMT48VB Benchtop Pick and Place Machine
Note: Price Match to all channels, feel free to leave us a message or write us an email to sales@robotdigg.com and provide a 30USD coupon for an order of RobotDigg items. (Order amount over 300 USD net amount can be used, thanks.)
To WIN our RobotDigg T-shirt, WELCOME to OpenDigg.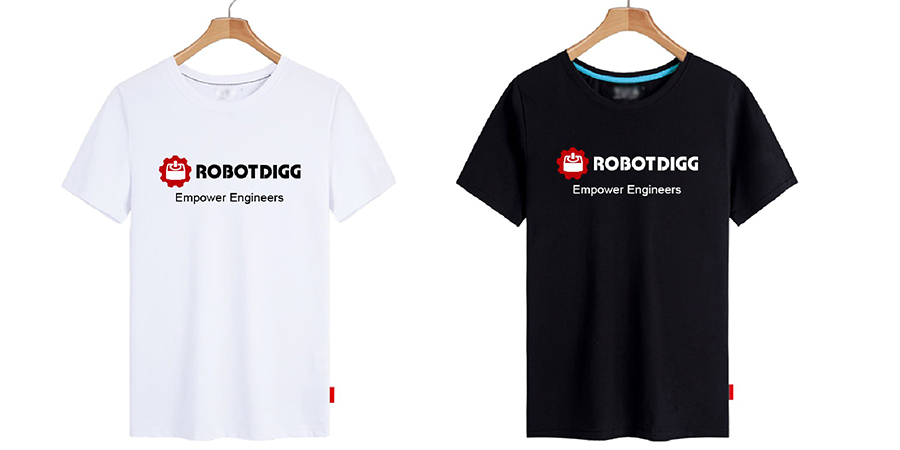 CHMT48VB User Manual in English

About Free Shipping, to the USA we will ship 110VAC and UK 230VAC, etc, so you do Not need to worry about the voltage. Shipment will be arranged by courier FedEx, TNT, UPS or DHL, etc.
HS Code 8479.89.92.00 Automated electronic component placement machines of a kind used solely or principally for the manufacture of printed circuit assemblies is Not in the list of US Tariff on Chinese Goods. Three rounds of detailed documents can be applied by sending us an email to sales@robotdigg.com
Commercial delivery address as Company, there is Coupon available for this purchase, please provide Importer Number (5106 form) if you are from USA for the shipment.
The Importer Number is a unique identifier assigned by Customs to the Importer of Record. It is regularly used during the importing process and all importers must have one on file.

Orders from Europe please provide EORI Number for shipment without delay at Customs.
The workbench pick and place machine has two cameras, Linux operating system and a 58 occupy IC feeding system
Patent design IC feeding varied from not traditional feeder which makes it workbench.
Different from CHMT48VA, CHMT48VB can be loading ICs from two sides, each side 29 feeder occupy.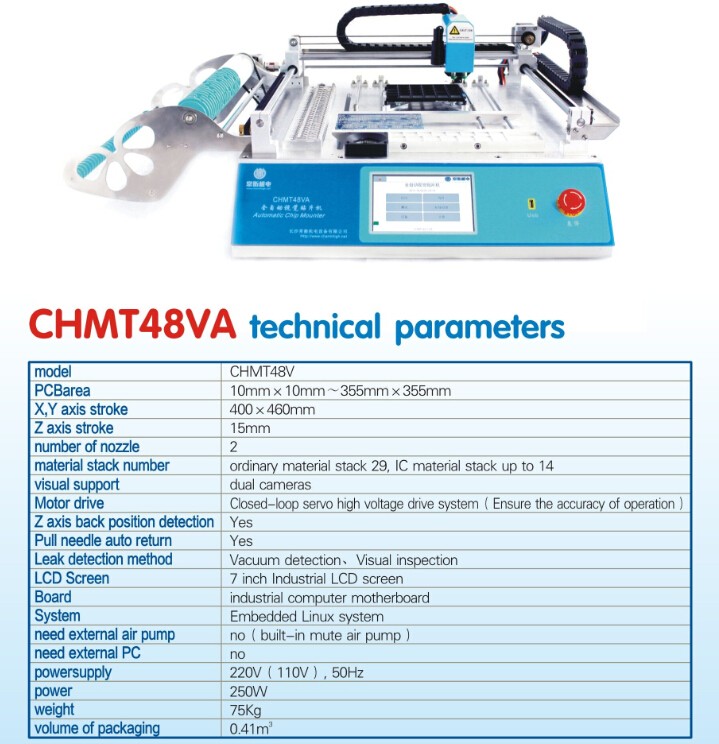 CHMT48VB Paypal Buy Now
Paypal or Credit Card (Stripe) for the pick and place machine, shipping cost included by FedEx, DHL, UPS or TNT to Australia, East Asian Countries, Canada, USA, United Kingdom or Western European
XYZ Axis stroke: 510mm*460mm*15mm
PCB area:10mm*10mm-345mm*355mm
Component Support:0402,0603-5050,SOP,QFN
Material Support: 8mm,12mm,16mm,24mm
Power: AC220V 50Hz/AC110V 60Hz
Dimension: L 1320*W705mm*H335mm
Power: 250W
Net weight:89KG
Nozzle:2pcs
Mount Speed: do not use the visual:6000cph, use visual:4000cph(cph is chip per hour)
SMT precision: 0.025mm
Material System: 58pcs Feeders, prey IC tray=14pcs, support custom IC tray
Controlling system XU axis with motor for driving, Z-axis with reset detection. All motors with S flexibility lower or faster speed
Compatible operation: Embedded Linux system
Vacuum Detection 2 pcs(in-built)mute pump(-92kpa)
Visual system: Up camara automatic adjust(max22mm*22mm),Down camara PCB auotmatic Mark adjusting